California Trucking Companies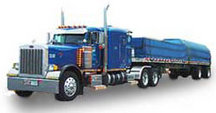 Through our strategic alliances, California Trucking Companies can provide you with a wide range of transportation solutions. We provide solutions for small to medium size companies everyday while saving them money, and most importantly, time.
With over 30 years of Truckload and LTL experience, California Trucking Companies assures you of economical solutions to all kinds of transportation challenges - from a simple flatbed load to a over-width and over-height over-dimensional load, California Trucking Companies has the carrier relationships to get the job done - on time and safe! Whether you need an LTL trucking company, a truckload carrier servicing Vans or Flatbeds or you have an Oversize Heavy Haul requirement, California Trucking Companies can handle it.
Our knowledgeable staff simplifies the shipping process by shopping for the best rates through our database of over 3,000 qualified carriers and then carefully coordinating your shipments from pick up to delivery. We are known for our superior customer service and high-level of communication on all your transportation needs.
Start enjoying the same advantages as your larger competitors by letting us quote your next shipment!
Customers who use California Trucking Companies can be confident that they will benefit from our superior attention to detail, experience, safety, and on time performance record!
We keep you informed about your shipments. From pick-up to delivery, we pride ourselves on providing transportation solutions that work.
Whether you are looking for a flatbed carrier, van carrier, reefer carrier, or a specialized carrier, California Trucking Companies will be able to provide you an extensive list along with the trucking companies detailed profile.
PROFILE TRUCKING COMPANY OF THE MONTH:
Integrated Transport Logistics, Inc. is a debt-free flatbed, stepdeck, and dry van company has been around since 1998. Currently, ITL is agents for five of the top owner operator companies, manages an asset based carrier, and works with over 500 carriers within its brokerage division. ITL is a debt-free company that strives on both safety and on-time performance. Give ITL a call today at 800-308-2878 or use their automated quote system by clicking here.
Integrated Transport Logistics, Inc.
Equipment:
Flatbeds, Stepdecks, Dry Vans, DoubleDrops
Year Started:
1998
Operations Manager:
Gayle Hall
Phone:
334.558.0860
Fax:
334.558.0865
Website:
IntegratedTransport.com
---